Small and Diverse Business Program
May 23, 2016
Thank you to all those who attended the webinar!
Please select the below link to download a copy of the presentation and feel free to reach out if you have any questions or comments.
Outreach Event Webinar_2016-06-01
Subject to the conditions prescribed by the Kaiser Permanente National Facilities Services ("KP"), Rudolph and Sletten, Inc. (R&S) (LICENSE # 198069) is soliciting a request for qualifications (RFQ) from including, but not limited to, Lump Sum Pre-Qualified Prospective Bidders certified** as:
1. Minority Owned Business Enterprise ("MBE")
2. Women Owned Business Enterprise ("WBE")
3. Small Disadvantaged Owned Business Enterprise ("SDBE")
4. Small Business Enterprise ("SBE")
5. Veteran-Owned Business Enterprise ("VBE")
6. Service Disabled Veteran Owned Business Enterprise ("DVBE")
7. Small businesses located in "historically underutilized business zones." There are three types of HUBZones: urban areas, rural areas and Native American lands. ("HUBZone")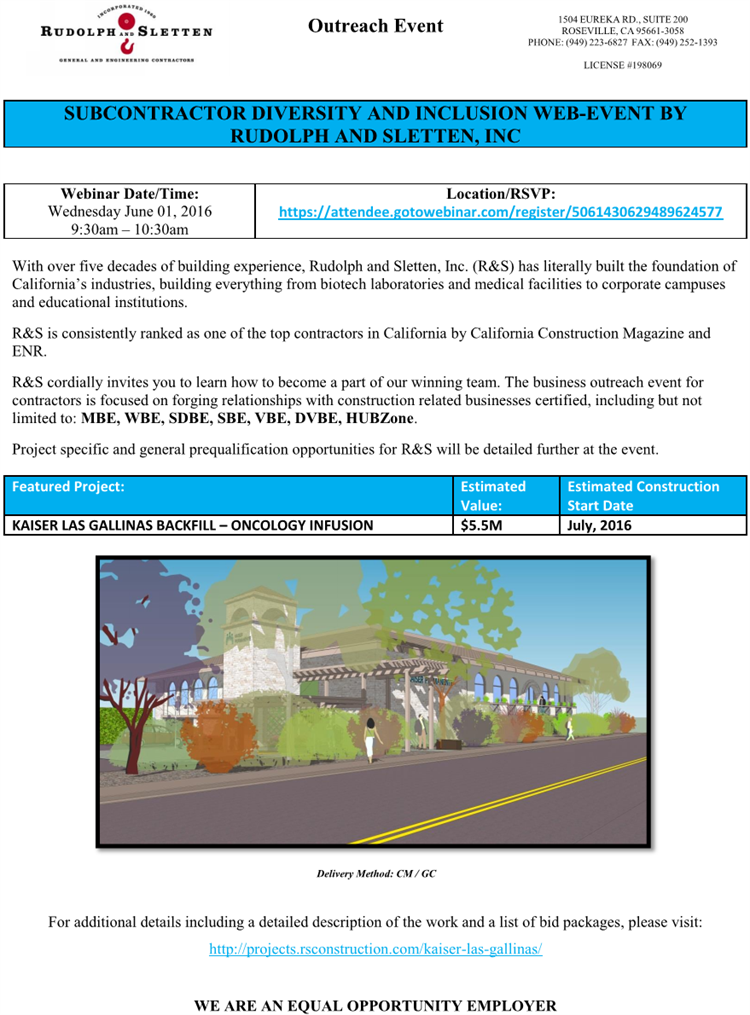 **Must be certified by a recognized third party certification agency or organization.  Recognized third party certification organizations and agencies include: (a) all state departments of transportation, (b) city and county certifying agencies, (c) the United States Small Business Administration, (d) Women's Business Enterprise National Council (WBENC), (e) the National Minority Supplier Development Council (NMSDC), (f) any other agency or organization approved by Billion Dollar Roundtable, Inc. of Spanish Fort, Alabama, and (g) other agencies approved by NFS Diversity Services on a case by case basis.