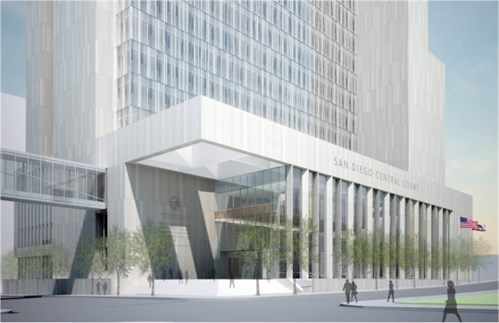 Rendering courtesy of the Architect of Record: Skidmore, Owings & Merrill 
PROJECT DESCRIPTION
The Project consists of a new building and site development for a trial court facility comprised of approximately 704,000 GSF with 71 courtrooms (44 standard jury trial, 15 standard non-jury, 10 large high-volume special purposed courtrooms and 3 large trial courtrooms), related superior court office and public service spaces, holding areas at courtrooms and in basement central holding and court support.  Court building will entail 22 occupied and 2 mechanical above-grade floors with two below-grade levels that will be primarily dedicated to central holding, vehicle sallyport, building services and secure parking of approximately 80 stalls.  The building structure, which covers the entire site, extends approximately 46 ft. below grade and 390 ft. above grade.  The Project includes but is not limited to all building structure; a pedestrian bridge from court building over C Street to the Hall of Justice enclosure; interior improvements; mechanical, electrical, data, telecommunication, audio visual, and security systems, as well as the selection and installation of interior furniture, furnishings and fixtures.
The site development includes but is not limited to site preparation, underground utilities, landscape, hardscape, vehicular drives and ramps, street-frontage improvements, security barriers, fencing and gates.  The Project includes removal of existing low-rise buildings, underground utilities and paving on the site prior to commencement of construction.  The site in the San Diego Downtown Civic Center is a full city block (approximately 1.4 acres) site near the Hall of Justice and the County Main Jail.  The Project does not include demolition of the existing adjacent County Courthouse or redevelopment of the underlying property.
DVBE 3% participation is required.
Beneficial Occupancy Date is September 28, 2016
ANNOUNCEMENT LINKS
 DIVERSITY AND INCLUSION OUTREACH EVENT
 ADVERTISEMENT FOR PREQUALIFICATION OF TRADE SUBCONTRACTORS
 2ND TIER SUPPLIER AND SUBCONTRACTOR DIVERSITY OUTREACH EVENT
 PROJECT FEATURED AT NAWIC 2015 REGION 12 FORUM
OWNER'S INFORMATION
 For additional details and progress milestone updates, please feel free to visit the owner's website:
AOC WEBPAGE FOR THE SAN DIEGO CENTRAL COURT BUILDING
For additional project information, please contact:
Bidding Contact: estimating@rsconst.com
Prequalification Contact: subqual@rsconst.com
Additional Details:
Location:
1100 Union Street, San Diego, CA
Project Owner:
Judicial Council of California
Project Architect:
Skidmore, Owings & Merrill
Project Value:
$447,000,000
Owner Project Number:
1020842
R&S Project Number:
10174600
Anticipated Construction Start:
3/1/2014
Project Size:
704,000 GSF
Project Type:
CM at Risk
Applicable Labor Agreements:
PLA
Outreach Event Date:
3/5/2013
Prequalification Docs Available Date:
5/2/2013