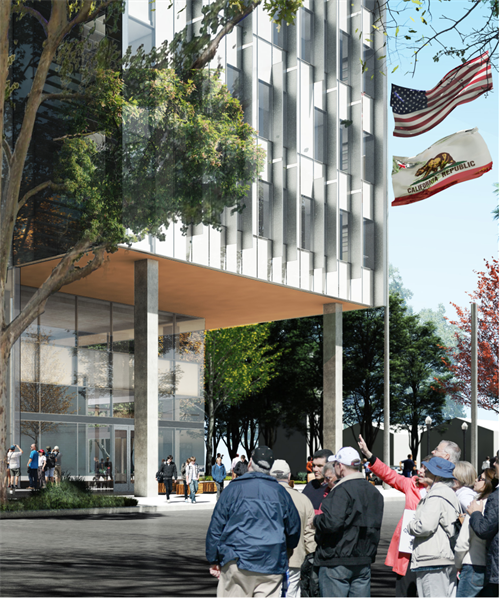 Rendering Courtesy of Design-Build Partner ZGF Architects
Rudolph and Sletten, Inc. partnering with ZGF Architects and Lionakis has been awarded this exciting project.
This project includes demolition of the existing vacant California Department of Food and Agriculture Annex building, abatement and removal of all asbestos and lead materials, and construction of a new, modern office building in Sacramento.
The new building will be approximately 360,000 total gross square feet, and will include office, assembly, storage, building support, parking, and commercial food service space. The building will have an expected building capacity of 1,150 employees and will house staff from the Health and Human Services Agency, the Department of State Hospitals, and the Department of Developmental Services.
Advertisement for Prequalification
For additional information and press releases managed by the DGS, please visit: https://www.dgs.ca.gov/dgs/Home/SacramentoOfficeBuildingProjects/OStreetBuilding.aspx 
Additional Details:
Location:
1215 O Street Sacramento, CA 95814
Project Owner:
Department of General Services (DGS)
Project Architect:
Criteria: Hammel, Green and Abrahamson (HGA) / Design-Build Partners: ZGF Architects and Lionakis
Project Size:
360,000 GSF