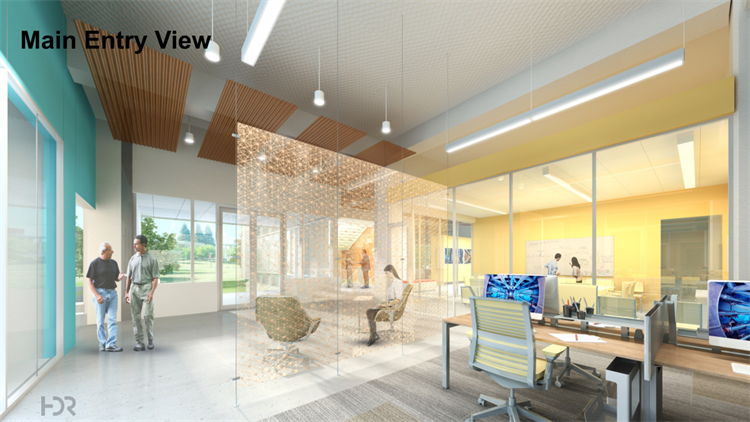 Rendering Courtesy of Architect of Record, HDR, Inc.
Targeting LEED Gold, the Stanford Linear Accelerator Center (SLAC) Photon Science Laboratory Building (PSLB) Project consists of the fit out of a building shell located at SLAC National Accelerator Laboratory in Menlo Park, CA 94025.  The building shell is an approximately 100,000 total gross square foot (GSF) three-story concrete frame structure with construction currently underway.  The project is targeting 55,000 to 100,000 GSF of fit-out; this construction effort is for the fit-out of the first/lower two floors. The total estimated Subcontract range including all Subcontract options is $37M.
The objective of the PSLB Project is to fit out the building shell to provide specialized laboratories, building core, elevators, building systems, and related supporting infrastructure to enable a range of simulation, theory and modeling, synthetic and characterization capabilities in support of study of ultrafast physical, chemical, and biological processes and materials synthesis. The fit out will provide laboratory and office spaces, provision of furniture, and all mechanical, electrical, plumbing, and fire protection equipment and utilities.
Small Business Subcontracting Plan and Outreach
Advertisement Calling for Prequalified* Prospective Bidders
Advertisemnt Calling for Bids from Prequalified* Bidders (Pending)
*Prequalification requirement waived for indicated Bid Packages
**Dates are subject to change