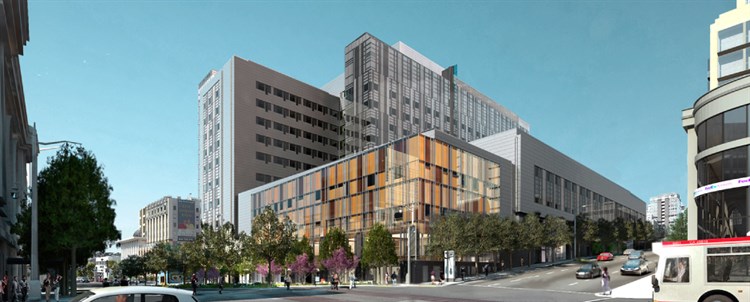 Rendering Courtesy of the Architect of Record, SmithGroupJJR
PROJECT DESCRIPTION
150,000 SF Tenant Improvement build-out for Sutter Healthcare located at 1100 Van Ness Ave. at Geary Street in San Francisco California. Start of Construction is January 2018. Project Completion is December 2018.
VAN NESS CAMPUS
The next generation of health care at the Van Ness Campus will be delivered in two state-of-the-art facilities essential for San Francisco patients. CPMC 2020's forward-thinking construction concepts and sustainable designs are adding 274 patient beds in a modern acute care hospital. The hospital, a twelve-story home for the women's, children's, cardiology, oncology, emergency care and transplant departments, will create 740,000 square feet of diagnostic, treatment, and inpatient bed space. An adjacent 253,000 square foot, nine story medical office building will accommodate outpatient services and support the health care professionals next door. The hospital and medical office, respectively LEED and LEED-Silver certified, will connect by a pedestrian tunnel below ground, and add 376,000 square feet of underground parking space.
HerreroBOLDT, SmithGroupJJR and our Integrated Project Delivery Team is working with local partners and subcontractors to optimize the construction process. An integrated communications system used during construction of the Van Ness Campus ensures coordinated design and construction delivery. The latest construction practices streamline the building process, allowing our team to meet the challenges surrounding building health care facilities that adhere to California's safety standards and address the community's well-being.
ANNOUNCEMENT LINKS
Detailed Advertisement for Prequalification (Pending)
Detailed Advertisement for Bids (Pending)
OWNER'S INFORMATION
For additional details and progress milestone updates, please feel free to visit the owner's construction progress website: