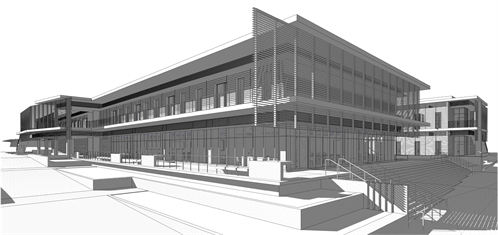 Rendering courtesy of the Architect of Record: Marlene Imirzian and Associates Architects Ltd.
The two-story, 103,000-square-foot building has been programmed for 21 classrooms and 16 labs for physical and life science and math programs, as well as administrative space, faculty offices and meeting rooms. It will be built in the area now home to the swimming pools, gym, racquetball courts and athletic department offices, currently known as the 1000 Building Complex. This project includes demolition, materials, labor, transportation, security, and temporary facilities identified in, or reasonably inferable from, the construction Drawings and Project Manual for the Math and Sciences Building.
Small Local Business Enterprise Outreach Info
Detailed Advertisement for Prequalification*

List of Prequalified Prospective Bidders

Detailed Advertisement for (Prequalified*) Bids
Please check back often for updates.
*Prequal requirements may be waived for indicated bid packages
**Dates are subject to change
Bidding Contact: estimating@rsconst.com
Prequalification Contact: subqual@rsconst.com
Additional Details:
Project Owner:
Southwestern Community College District
Project Architect:
Marlene Imirzian and Associates Architects Ltd.
Project Value:
$60,000,000
Project Size:
100,000 GSF
EMR Maximum Requirement:
1.25
Applicable Labor Agreements:
Community Benefits Agreement
Prequalification Docs Available Date:
1/7/2016