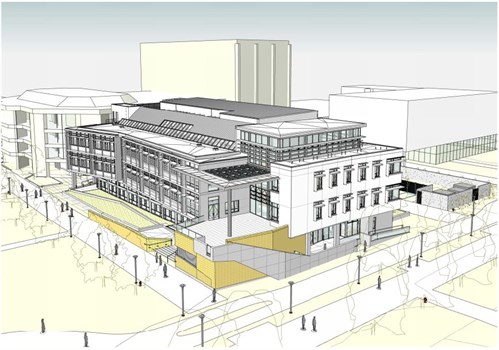 Rendering courtesy of the Architect of Record: Moore Ruble Yudell Architects & Planners
The Project consists of a new three (3) story, approximately 89,000 gsf concrete lab building with basement.  The building will be LEED® certified, targeting a Gold rating.  It is a multi-disciplinary research facility that will house a combination of wet laboratories, laboratory support space, and dry computational research laboratories.
Every effort will be made to ensure that all persons have equal access to contracts and other business opportunities with the University within the limits imposed by law or University policy. Each Subcontractor may be required to show evidence of its equal employment opportunity policy. The successful subcontractors will be required to follow the nondiscrimination requirements set forth in the Bidding Documents and to pay prevailing wage at the location of the work.
University Controlled Insurance Program (UCIP) Information
Detailed Advertisement for Prequalification
List of Prequalified Prospective Bidders
Detailed Advertisement for (Prequalified**) Bidders
Detailed Advertisement for Prequalification and (Prequalified**) Re-Bid
 *Dates are subject to change
**Prequal requirement waived for indicated bid packages
Bidding Contact: estimating@rsconst.com
Prequalification Contact: marissa_lidyoff@rsconst.com
Additional Details:
Location:
University of California at Santa Barbara (UCSB)
Project Owner:
UCSB
Project Architect:
Moore Ruble Yudell Architects & Planners
Project Value:
$53,055,000
Owner Project Number:
FM110496L/981650
R&S Project Number:
10280309
Project Size:
Approx 89,000 gsf
EMR Maximum Requirement:
1.15 over the past five (5) years.
OCIP/UCIP:
UCIP