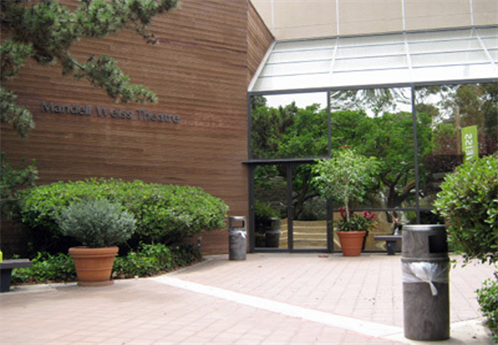 UCSD Project No. 5514
The Mandell Weiss Theater is the largest theater space in the Mandell Weiss Center for the performing arts. It is a proscenium theater that seats 500 audience members and supports La Jolla Playhouse productions. Adjacent to the theater, there is the technical shop that serves the production spaces of all the theaters in the Mandell Weiss Center.
The Mandell Weiss Theatre and Shops Seismic Improvements project consists of the structural upgrades of the existing Mandell Weiss Theatre and Shops supporting the theater productions. The scope of work consists of the addition of new structural steel members and concrete footings, welding of existing members, demolition of existing architectural finishes to access the brace frames, and repair of existing finishes after the seismic upgrades are completed. 
The anticipated total project value is: $7,000,000.00
Detailed Advertisement for Prequalification
List of Prequalified Prospective Bidders

Detailed Advertisement for (Prequalified*) Bidders

 **Dates are subject to change
*Prequal requirement waived for indicated bid packages
Bidding Contact: estimating@rsconst.com
Prequalification Contact: subqual@rsconst.com