Thank you for taking the time to be a part of the Irvine Region Safety Leadership Team.
Please check back here for new announcements and meeting minutes.
Internal Safety Award Recognition
IRV_SLT Statewide Meeting PPP_2016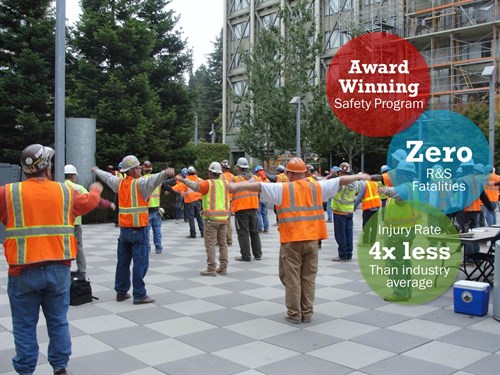 Leadership Team Mission Statement:
 The elimination of injuries and the creation of a safe work environment for our employees and our subcontractors is a core value at Rudolph and Sletten!
The Safety Leadership Team's (SLT) mission is to motivate, advocate, educate, initiate, communicate, monitor and maintain programs, practices and policies to ensure safe work practices that will prevent all injuries in the office, on the road, and on the jobsite.  The SLT is a cross departmental group whose role is to train and encourage every R & S employee to ensure they understand the risks associated with the work they do and have the necessary tools, training and education to perform each task safely.  The SLT will lead the company's efforts to create and maintain a culture wherein every employee is encouraged to have a passion for Safety.
The SLT will develop and implement methods to identify leading indicators and root causes of injuries, proactively identify hazards common to our industry (and more specifically to our employees), so that Rudolph and Sletten can take a proactive approach to eliminate injuries and incidents before they occurs.  The SLT will provide timely communication to our employees of any improvements to our existing safety program, codes and standards so that every employee has the necessary tools to be safe.
Through education and training we will ensure that Safety continues to be an essential component of Rudolph and Sletten's Corporate Culture to keep us the Safest and the Best.