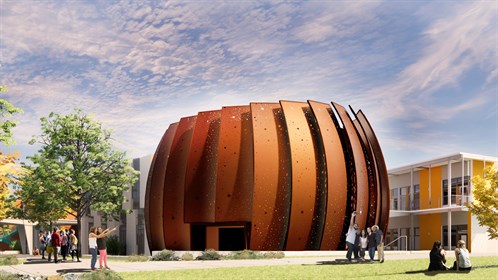 Rendering courtesy of Architect of Record, Gensler
The 113,000 sf project  includes new classroom space, faculty space and planetarium with raised walkways and associated site improvements on the north east corner of the existing Southwestern College campus.  Demolition of existing buildings within the new building's footprint and site area will be required to place the new two story steel framed and tilt-up concrete structures.  
Please note there is a PLA on this project.
Please check this site often for updates and select the below links for additional information.
Community Benefits Agreement (CBA)
Outreach Event Flyer 03/17/2022
Detailed Advertisement for Prequalification
Prequalification Attachment A-1
Prequalification Attachment A-2
Prequalification Attachment A-3
Prequalification Extended 4/5/2022 for select Bid Packages* listed in Addendum No 1:
Detailed Advertisement for Prequalification Rev 04/05/2022
Prequalification Attachment A-1 Rev 04/05/2022
Prequalification Attachment A-2
Prequalification Attachment A-3 Rev 04/05/2022
Prequalification Extended 4/20/2022 for select Bid Packages* listed in Addendum No 2:
Prequalification Attachment A-1 Rev 04/05/2022
Prequalification Attachment A-2
Prequalification Attachment A-3 Rev 4/20/2022
Prequalification Reopened 09/09/2022 for select Bid Packages* listed in the 
Detailed Advertisement:
Detailed Advertisement for Prequalification* Dated 09/09/2022
Prequalification Attachment A-1 Dated 09/09/2022
Prequalification Attachment A-2 Dated 09/09/2022
Prequalification Attachment A-3 Dated 09/09/2022
Prequalified Bid Lists (Pending)